Specs
Height:
6 ft.
Supermicro SC750-A
Weight:
140 lbs.
Abit KT7A
Eyes:
blue
Mitsubishi Diamond Pro 900u
Shirt Size:
L
Black IBM Keyboard
Pant Size:
W 31, L 34
Logitech IR Wheel Mouse
Shoe Size:
10.5
Sennheiser HD 495
Tail:
I wish.
MGE Pulsar ES 5+
Speed:
+
AMD 1200MHz
Power:
-
768 MiB
Endurance:
+
GNU/Linux
Hearing:
0
Turtle Beach Santa Cruz
Other:
Lack of creativity.
Tekram DC-390U3W, ATI TV Wonder, 10/100
Donations of clothing from Copyleft or ThinkGeek would be appreciated. All of my clothing is either white, green, blue, grey, or black. I didn't plan it that way, it just kinda happened.

Music
Barenaked Ladies (everything, especially MYSD), Radiohead, System of a Down (Toxicity!), Ben Folds Five, Tool, White Zombie, Pantera, Weezer, Fugzi, Frau Frau, Chantal Kreviazuk, Guster, Tonic, U2, Massive Attack, and I'd like to give a special mention to my fabulous Bobs Dining Hall Salsa CD

Movies
Pulp Fiction, Teenage Mutant Ninja Turtles, American Pie, Braveheart, Heat, Dr. Strangelove, Traffic, Gleaming the Cube (I have it on DVD!), Sneakers, WarGames, TRON, Night of the Living Dead, Memphis Belle (B-17's are soooo sexy), Se7en, Starship Troopers, The Blues Brothers, Der Krieger und die Kaiserin, and the story of my life from 2000-2001: Office Space.

If you buy me a DVD copy of The Wizard or Rad, I'll love you forever.

TV
Uhhh... good thing the Simpsons and Family Guy are coming out on DVD now. The Shield is also pretty good. I also like the Avengers (from the mid 60s). My recent favorite which I actually religiously watch is Most Extreme Elimination Challenge (MXC), which is just Takeshi's Castle dubbed in English. Aside from that, whatever is on the History, Discovery, or Learning channel is usually pretty good.

Books
Peopleware. Go. Read. Now. Catch-22, Design Patterns, On The Road, The Humane Interface, Refactoring, The C++ Programming Language, The Pragmatic Programmer, Inferno, The Design of Everyday Things, and I'll always have a soft spot in my heart for The Chronicles of Narnia.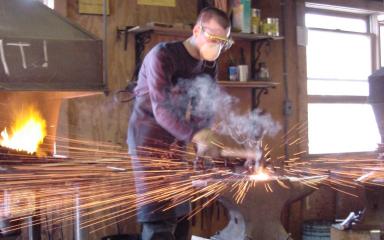 Ghetto Q&A
Did the weld hold? Yes.
What number is sexier, 3 or 4? 4
Tallest building in the world? The Sears Tower, duh.
Favorite play? Tartuffe
Number 1 U.S. Song on your birthday (Jan 22nd, 1981)? (Just Like) Starting Over by John Lennon. (In the U.K. it was Imagine)
Favorite color? green or black (dark purple is nice, too)
Linux? I prefer the formal name GNU/Linux in writing but usually just say Linux when talking to others. Anyhow, it's been RoX0ring my b0xors since the winter of '97 :) First Slackware 3.4, then Redhat 5.0 -> 5.2, then Debian Slink to whatever the current testing version is (with a few unstable packages).
For more insight, you can view my journal. Sorry, there's nothing particuliary juicy or private in there.
Politics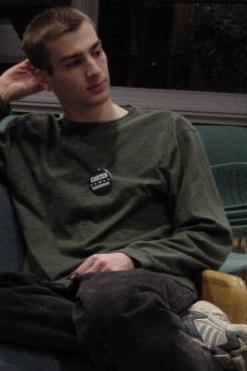 Because the Republicans keep sending me SPAM and the Democrats keep sending me parts of dead trees with stamps attached, I thought I would aim my independent-minded political efforts towards the Greens. Check out my page on Maine governatorial candidate Jonathan Carter and one of his visits to Colby a while back.


If I had $65, I'd immediately sign up to be a member of the Electronic Frontier Foundation. I don't have enough good things to say about the EFF; in short they're the only intelligent computer-minded group out there dedicated to protecting our rights against things like the Digital Millennium Copyright Act. For examples, check out a list of their active legal cases and efforts. They often team up with the ACLU if you happen to like that group already. I think I like the ACLU too but I have this nagging feeling that they did something really stupid that I didn't support a while ago. At any rate, the EFF has always done what I consider good and you should check them out.


Oh, and I vote, too. In the 2000 presidential, 2002 gubernatorial, and the 2003 Maine referendum thus far.
The Simpsons
I love the Simpsons. And yes, I am ...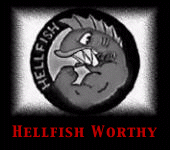 Just for fun, let's see how many of Homer's jobs I can rapidly name... Nuclear safety technician, Pin monkey, Quick-E-Mart clerk, Manager for Hank Scorpio's Globex Corporation, Football coach, Super Bowl travel agent, High school student, College student, Dancin' Homer for the Isotopes, Founder of Interslice, Santa Claus, Beer barron, Tomacco farmer, Submarine captain, NASA astronaut, Boxer, Head sanatation guy, Truck driver, Grease business (we also run the shovel racket), Monorail conductor, Voice of Poochie, Town crier, B-Sharps member, Guy who gets hit in the stomach with a cannonball, Winter cartaker at Burns' hotel, Bodyguard, Powersauce guy, and Mr. Sparkle. Chris would like to add car designer for Powell Motors.
Right. Want some quality Simpsons trivia? Head on over to The Simpsons Trivia Castle to take the multiple choice quiz and see if you can earn yourself one of those beautiful Hellfish images.
Everything else...
-----BEGIN GEEK CODE BLOCK-----
Version: 3.12
GCS d- s+:- a-- C++ UL++++ P-- L+++ E--- W++ N+ o-- K- w-- O-- M-- V- PS+
PE- Y++ PGP- t--- 5-- X- R- tv-- b+ DI+ D++ G e>+++ h>--- r-- y?
------END GEEK CODE BLOCK------
Decoder


It's time for you to send me some e-mail <kjseptor at colby.edu> if you want to know anything else. I'm not one of those mean Internet hobgoblins that is too busy brewing meanie juice to reply.
Last Modified: Jan 2nd, 2004